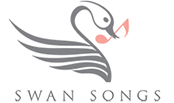 Fulfilling musical wishes at the end of life, Austin-based non-profit, Swan Songs, organizes private concerts for individuals with a terminal illness. At their request, a favorite style of music or local musician is brought directly to the home or healthcare facility. The concert allows patient, family, and friends to focus beyond the illness and come together through the medium of music.
When someone is nearing the end of their life and they need the comfort and inspiration that music can bring, usually they can no longer leave their home to hear a live performance. So, Swan Songs organizes a private concert tailored to their specific musical request.
Swan Songs recognizes that the talent and expertise of our musicians are an invaluable part of our success. Therefore, musicians are offered an honorarium for their time. Some are able to donate that back to the organization, but most are grateful for the experience and also appreciate the compensation and the respect that it represents. There is no charge to the recipient or facility; Swan Songs is able to offer this gift through donations, an annual fundraising gala, and foundation and corporate grants.
Concerts have been held in Austin, San Marcos, Kyle, Round Rock, Bastrop, San Antonio, Wimberley, Georgetown, Lockhart, Dripping Springs, Seguin, Taylor, and Pflugerville, to name a few. Swan Songs has facilitated over 350 requests since its founding and is on track to organize 100 concerts in 2016.
The feedback received from the granddaughter of a Swan Songs recipient says it all:
"Last night grandma was so energetic and talkative. She stayed awake until 11:30 talking about her life, fun times, etc…all of us laughed so hard, including her. I know it was the energy brought in the house from her concert. Love to you all for such a wonderful organization and passion for what you do. It will be forever remembered."
To learn more:
Watch a Swan Songs Overview Video